Description
Introducing the captivating essence of "Summer of 69" captured in a bottle! Immerse yourself in a new symphony of scents with our exquisite perfume, a true ode to the sunny season.
Experience the invigorating burst of freshness as zesty citrus notes dance upon your skin, caressed by the gentle whispers of vibrant black currant. Feel the uplifting embrace of juicy lemon and the tantalizing allure of bergamot, & more citrusy ingredients, infusing each moment with a vibrant energy that lasts.
"Summer of 69" is an embodiment of pure elegance and sophistication, seamlessly blending with your unique style. The captivating allure of musk envelops you, leaving an irresistible trail that lingers in the warm summer air. The delicate touch of sandalwood evokes a sense of tranquility and serenity, transporting you to sun-kissed shores and picturesque beachside retreats.
Embrace the joyous spirit of summer with the enchanting frangipani, as its intoxicating floral notes swirl around you, reminiscent of blooming gardens and tropical paradise. The subtle hint of ginger adds a touch of spice, infusing the fragrance with a burst of excitement and a dash of playfulness.
Completing this olfactory masterpiece is the elusive an aquatic note, a note that transports you to the crystal-clear waters of secluded beach destinations, awakening your senses and igniting a deep desire for adventure.
Indulge in the ultimate sensory experience, "Summer of 69," a perfume carefully crafted for those seeking an unforgettable summer rendezvous. Be ready to turn heads and leave a lasting impression wherever you go. Embrace the essence of summer, bottled exclusively for you.
Claim your piece of summer bliss today and unlock the magic of "Summer of 69." Get ready to radiate confidence, allure, and joy all summer long. Don't miss out on this extraordinary olfactory journey. Experience the perfume that will make your summer dreams come true!
Available in 30ml/1.01oz bottles
Top Notes: Citruses, Black Currant, Lemon, Bergamot
Mid Notes : Musk, Aqua, Ginger
Base Notes : Frangipani, Sandalwood.
"Radiant citrus notes illuminate the blend, intertwining with the allure of black currant and musk—a sunlit day on the Mediterranean coast encapsulated in a bottle. Imagine basking in the coastal breeze that dances through a lush lemon grove, as invigorating herbs and succulent fruits invigorate the air, enhancing the garden's frangipani and aquatic notes. Indulgence takes center stage as creamy sandalwood enters the scene, melding seamlessly with delicate white florals. This infusion evokes a fresh and luxurious aura—a tribute to the artistry of Italian perfumery. Immerse yourself in this olfactory masterpiece, curated by Adnan Azher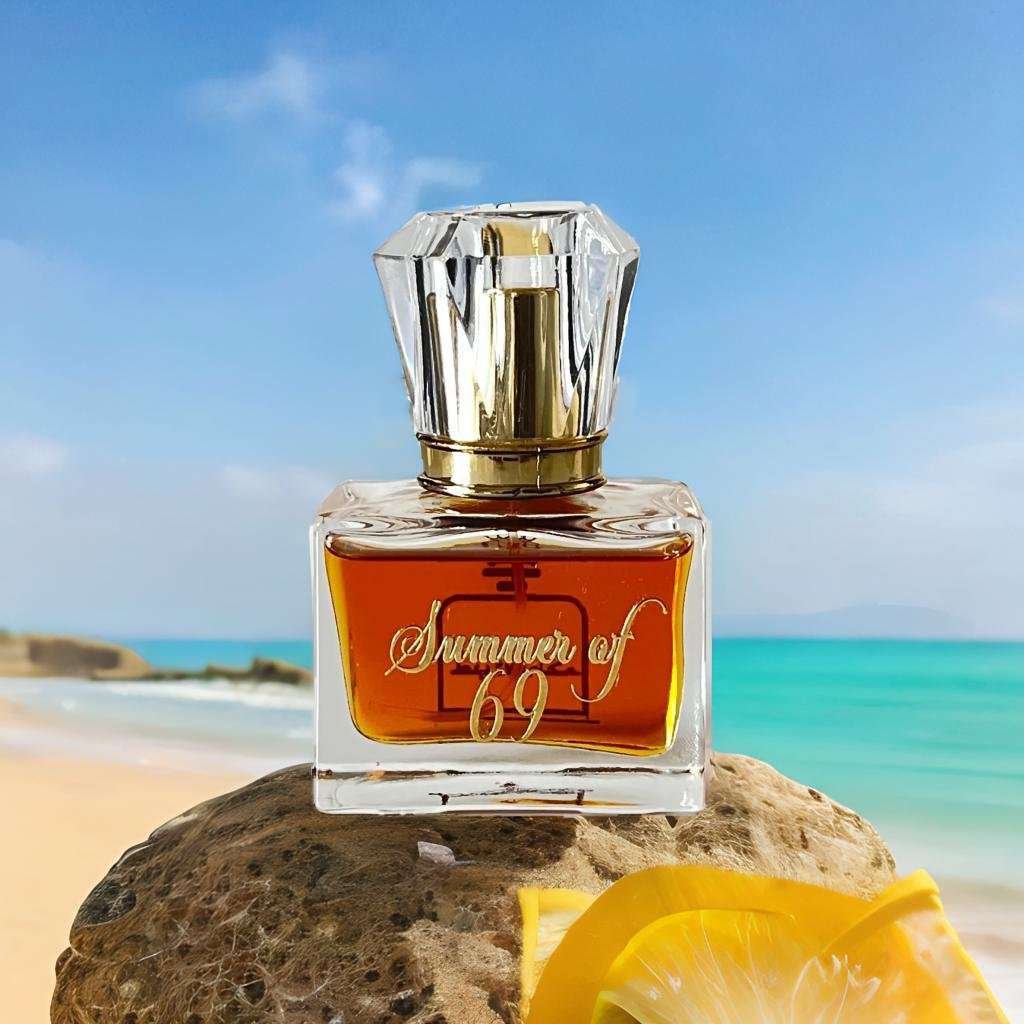 Indulge in the ultimate sensory experience, "Summer of 69,"